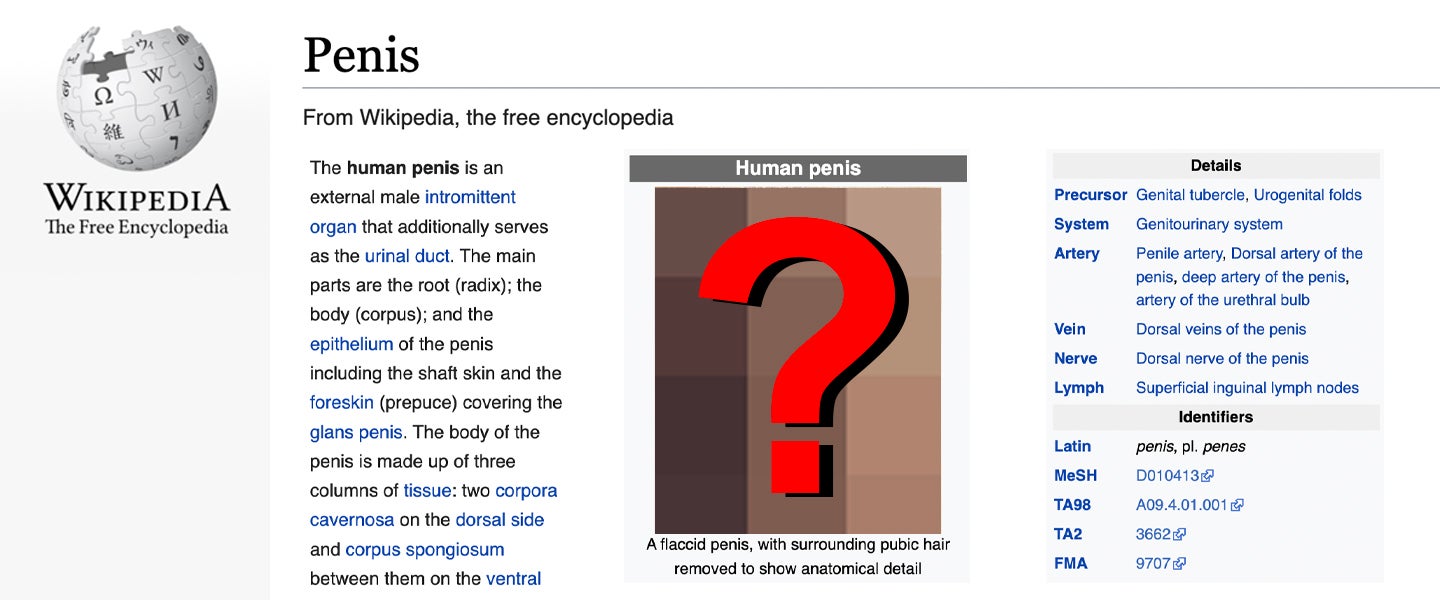 Who owns this dick on Wikipedia's "Penis" page?
It is the most famous penis in the world. Clean shaven, uncut and decidedly shorter than Tommy Lee, Milton Berle and Rasputin – and yet he has a wider reach than any of them. Seen by over 200,000 people on a monthly basis, it has become the subject of countless Reddit threads and Twitter posts. He also had remarkable stamina, staying atop the schlong heap for a solid decade. But despite his penile infamy, we have no idea who he belongs to.
I'm talking, of course, about the guy whose penis is on the Wikipedia page for "penis" – or, more specifically, the pages for "penis" and "human penis". The image was uploaded by a user named "Coastone" on April 29, 2012, and the dick photo was set as the main image for "human penis" the next day. Before long, Wikipedia moderators decided that this dick was the perfect specimen to represent every penis on Earth.
Over the next decade, many more penises would challenge that status, but they would only dethrone Coastone's for a few hours — or minutes — before its inevitable reinstatement. That on its own is pretty impressive, but if you factor in Wikipedia's rather turbulent penis history, Coastone's longevity is downright legendary.
In keeping with Wikipedia's basic principles of allowing anyone to edit entries, the site keeps a meticulous record of every edit made to each of its pages. To date, the penis page has had 8,440 different versions, and each can be found in the "View History" section of the page. The very first version of the penis page was created on November 8, 2001, about 10 months after the launch of Wikipedia. It contained no pictures and only provided the most basic information about penises.
As noted Slate, which reported on Wikipedia's penis page in 2014, on January 30, 2003, the first visual representation of a penis was added to the page by user GrandVoivodOfErdely. It looked like this:
Only 14 minutes later, the "vandalism" was eliminated.
A similar thing happened on July 13, 2003, when an anonymous user downloaded the first real the image on the page. The image, however, was of George Washington:
Wikipedia's penis page looked like this for exactly one minute before reverting to its previous version. Strangely, it seems Washington's pioneering spirit somehow inhabited Wikipedia's penis page that day, as a few hours later several photos of actual dicks – the first to appear on the page – would be uploaded by user BL~enwiki. They were also not considered vandalism. They were simple, medical-looking, black-and-white images, and they stayed on the page for months before being replaced by clearer photos.
However, none of these images were the "main image," that top image you see when you first click on a Wikipedia page. Instead, they were further down in the details section. Over the next 19 years, many and many of penises were vying for space in this section – usually they were uploaded by guys giving up their own cocks in the public domain. Most of them would be quickly deleted – as one moderator hilariously noted in the talk page: "At this time, Wikipedia no longer requires images of human genitalia." Occasionally, however, some images remained posted for years – these were the ones the moderators thought had encyclopedic value.
But while the ups and downs of penis images on the page are important, the more important penis there is certainly the main image. Again, it's the first thing people see when they land on a Wikipedia page, and it's probably the dick they think of when they think of Wikipedia's "penis." To this end, the first main image on Wikipedia's penis page appeared on May 9, 2004. It was an encyclopedic medical drawing uploaded by a user named Raul654.
Aside from the occasional prank, the medical drawings would remain at the top of the page until May 3, 2008, when a user named Bobisbob decided he was tired of cheap imitators – he wanted the real thing (or the whole pork, if you will). He added an image of a Caucasian male and labeled it "semi-erect circumcised penis". But Bob soon ran into opposition from other editors, who criticized the addition and brought the image back to the diagram. Bob, however, refused to give up. Then he uploaded dick pic after dick pic, although other users deleted them and called the images the worst possible insult on Wikipedia: "not encyclopedic".
Other moderators would also accuse Bob of uploading his own images. While it's certainly possible, it looks like Bob was downloading different photos of penises every time – some of which were circumcised, some of which were not; so it's unlikely all of them were his. Contrary to the cheap thrill many seem to get from adding their own dick pic to Wikipedia, Bob probably saw it as a worthy cause. In a comment, he even wrote: "Why not have a photo of the real thing, [is] is it so bad?
For an entire month, Bob went back and forth with other moderators, arguing that a picture of a penis was better than a diagram, and eventually they relented (despite refusing to use one of the images that Bob had presented). Instead, on June 6, 2008, user Nandesuka posted a slightly blurred black and white photograph that labeled different parts of the penis.
For two whole months Bob let it go, but in August 2008 he started insisting that the main image be in color and not have a label, explaining that tagged penis photos should be in in the details section. He continued the fight for over a year, occasionally uploading different color images, only to have them removed and replaced with the black and white photo.
Bob relented in September 2009, but the days were numbered for the black and white photo anyway. On February 24, 2010, a user named Yestadae posted a color image of a man with blond pubic hair. The image, which does not appear to be a photo of Yestadae, was from a German user named Polarstern, which translates to "North Star" in English. After a week-long discussion among moderators over which image was better, it was decided that Polarstern's was superior.
But Polarstern's reign as a penile polestar was also limited. In December 2010, the penis page – which was still very human-centric – was split into of them pages, one for general penises and the other for human penises in particular. Following this, the main image of the original penis page became a bunch of whale penis jars, and then later an elephant penis.
Polarstern became the main image for the new "human penis" page, but it was not without controversy. In the threads, Polarstern clearly being a white male — given his blond, unkempt pubic hair — was a big talking point. Namely: why not use a penis image with more racial ambiguity?
The answer came in the form of Coastone's dick – or which is most likely Coastone's dick, as it was labeled as "own work" on his details page, meaning it's his, or someone whose permission he got. Coastone's penis was uncircumcised, had a slightly darker skin tone, and was posted by user Pontmarcheur on April 30, 2012. Pontmarcheur posted this image just one day after it was uploaded to Wikipedia, which to me strongly implies that they are the same guy. Anyway, no one seemed to care.
Pontmarcheur argued that this new penis could belong to almost any race and that it "reduces the controversy" around the fact that a white male represents everyone. And unlike the lengthy discussions that have taken place in the past about such changes, the moderators came to a consensus that the Coastone member was the winner in a single day. Since then, the photo has remained the main image on the human penis page.
On April 30, 2022, Coastone will celebrate 10 years on the throne, an accomplishment he and Pontmarcheur – assuming they're not the same guy – should be proud of. After all, the past decade has been turbulent for the whole world. There was COVID, there was an insurgency and there were more than a few wars. Yet through it all, there was one stable thing we could rely on, one reliable member we could always turn to: The penis on the Human Penis Wikipedia page.