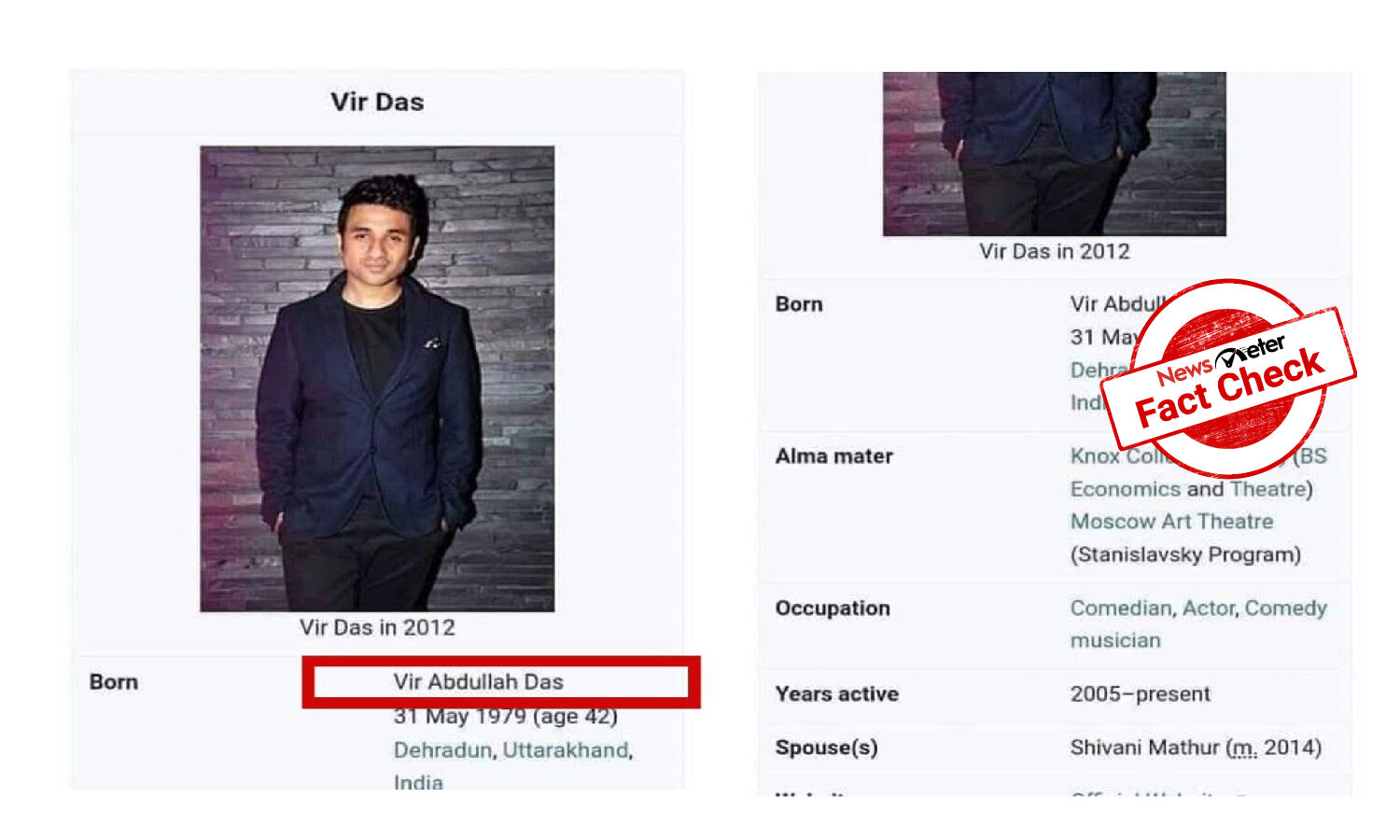 Vir Das is not a Muslim, the Wiki page has been modified
HYDERABAD: Actor and comedian Vir Das' performance on "Two Indias" at the John F Kennedy Center in Washington DC drew sharp criticism. Internet users believe he has portrayed India in a bad light on the international stage.
Social media users share a screenshot from Vir Das' Wikipedia page claiming the stand-up comic is Muslim. The screenshot shows Vir's name as "Vir Abdullah Das".
Click on the links below to view the messages.
FACT CHECK:
NewsMeter consulted the Wikipedia page of Vir Das. The team discovered that currently the name appears as simply "Vir Das", the name "Abdullah" has not been mentioned. We checked the History and Changes page to find any changes made previously. It was found that at 6:45 am on November 17, the page was changed and the name "Abdullah" was added.
Wikipedia, the online encyclopedia, has entries written and maintained by contributors and allows anyone to make edits to articles (with a few exceptions to prevent vandalism). So, it was easy for anyone to go to the page and change the name to falsely claim that the stand-up comic is a Muslim.
Several changes were made on November 16 and 17 which were later removed. Another such change was his nationality from Indian to Nigerian. Another change that was edited later was against Das' family. Users have claimed that the comedian has been accused of raping members of his family.
Obviously, the Wikipedia page had been changed and the name had been changed.
Moreover, in an interview with the Wall Street Journal in 2019, the actor spoke at length about his parents and mentioned their names. "My father, Ranu, worked for a large Indian food processing company. My mother, Madhur, was a teacher in Lagos, "he said.
This slightly indicates that his family is not Muslim.
https://www.wsj.com/articles/vir-das-made-his-way-to-india-to-american-tv-via-national-lampoon-11551195036
While no clear statement about Vir Das 'religion has been published anywhere, it is safe to say that the viral screenshot of Das' Wikipedia page claiming that his middle name is "Abdullah" and that he is muslim is false.