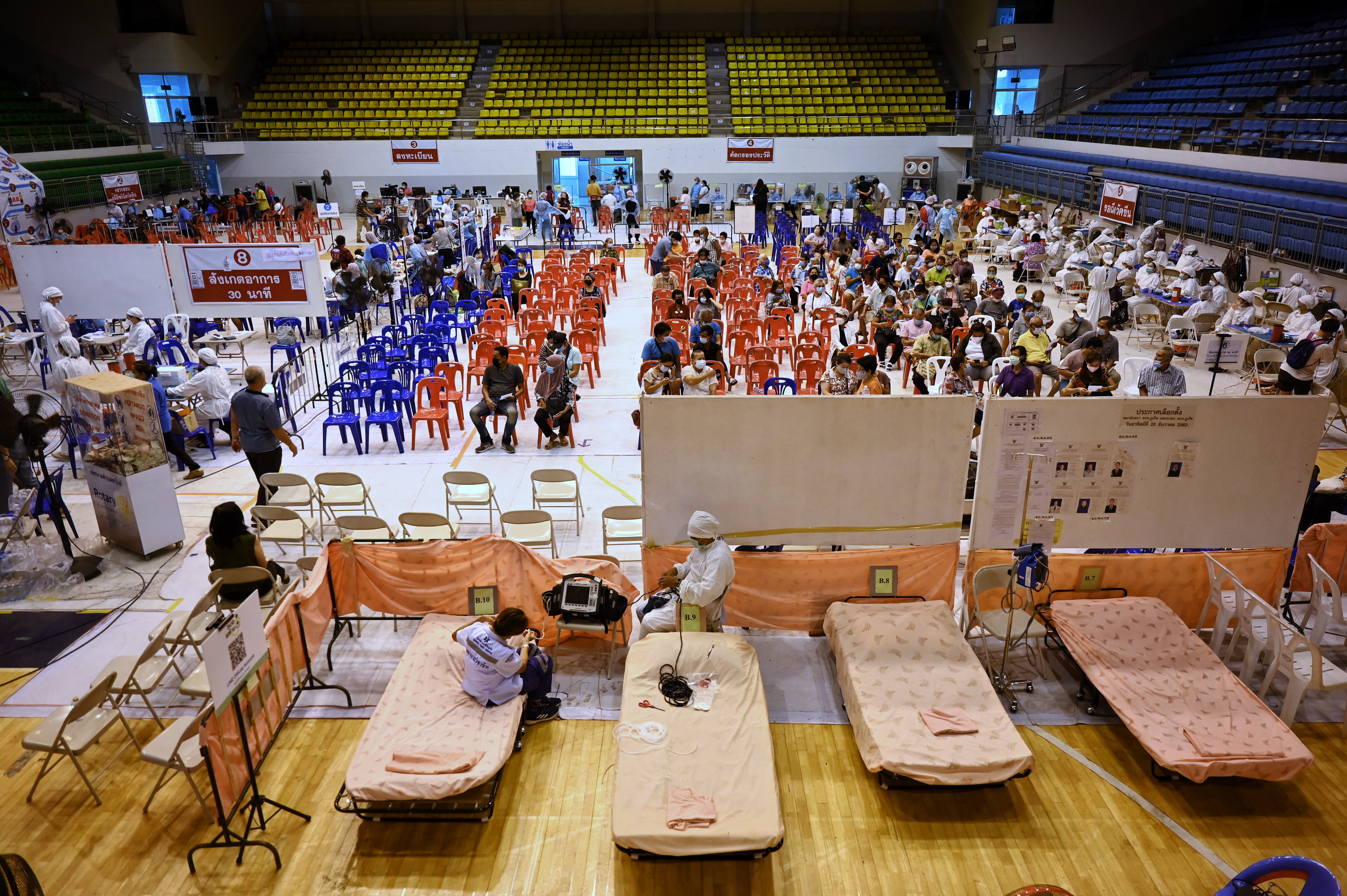 Man faces charges of altering Wikipedia page of top virologist
This photo taken on June 29, 2021 shows health workers administering doses of the AstraZeneca vaccine against the Covid-19 coronavirus to elderly residents at a sports stadium in Thailand. Photo: Lillian SUWANRUMPHA / AFP
Thai authorities were not amused when a recent engineering graduate allegedly added critical descriptions to the Thai Wikipedia page of the kingdom's top COVID-19 adviser, prompting a legal complaint and investigation.
The unidentified 24-year-old now faces criminal defamation as well as possible computer crime charges for the rewrite, which called the senior adviser a 'Sinovac salesman for the government of Prayut Chan-O- Cha".
Prayut is the prime minister of Thailand, which is trying to contain its worst coronavirus outbreak since the pandemic began. The Southeast Asian country has relied heavily on the Chinese Sinovac jab as well as a locally made version from AstraZeneca.
Police raided the man's home in Bangkok and confiscated his smartphone on Monday, days after a representative of top expert Dr Yong Poovorawan, a virologist at Thailand's prestigious Chulalongkorn University, filed a complaint against him .
Yong has been the subject of intense debate on social media over what critics see as his defense of Sinovac. This week he said a mix of the Sinovac and AstraZeneca vaccines can provide better immunity. He could not be reached for comment.
In a Facebook post regarding the alleged edit, Thailand's Cybercrime Investigation Bureau urged the public "not to edit information to defame third parties in a matter that may ruin their reputation, discredit them, or expose them to public scrutiny. hatred". He also asked people to verify the accuracy of information online and report any "fake news" to them.
According to the office, which is part of the Royal Thai Police, the graduate violated Article 326 of the kingdom's criminal code, which deals with defamation and is punishable by up to one year in prison or a fine of around 613. dollars, or both. Authorities are now collecting evidence and inspecting the defendant's phone to determine whether the more serious Computer Crimes Act, which carries a maximum penalty of five years, has also been breached.
On Wednesday afternoon, Yong's English Wikipedia page was also edited with unflattering remarks and accusations that the complaint was a waste of "precious police resources". It is not known if the authorities were aware of the modification.
The World Health Organization has approved Sinovac's COVID vaccine for emergency use. Although some studies show that it is only slightly more than 50% effective against infection, the data also suggests much better protection against death and serious illness. But news reports across Asia of new outbreaks in countries that have used Sinovac's jab have damaged his reputation.
Mistrust is widespread in Southeast Asia, where many countries including Thailand, Indonesia and Myanmar have been hit by new waves of the virus. Concerns about efficacy have grown as the highly contagious Delta variant spreads across the region.
In Thailand, authorities are also struggling to step up the pace of its vaccination campaign, which has yet to catch up with neighboring countries like Singapore and Cambodia. Thailand's nationwide campaign only started last month and as of Tuesday more than nine million people, or about 13% of the population, have received at least one blow since June 7.
On Wednesday, Thailand recorded 9,317 new coronavirus cases and 87 deaths, figures much higher than in previous months.
Authorities imposed curfews in Bangkok and other high-risk areas this week, ordering malls and businesses to close and banning gatherings of more than five people.
Earlier this month, a leaked Health Ministry document reported by Reuters revealed internal government concerns about the effectiveness of Sinovac's vaccine. The memo included a comment from an unidentified official who recommended not administering Pfizer boosters to frontline health workers who have already been inoculated with Sinovac, as this would amount to "admitting that the Sinovac vaccine is not effective ".
The document was later confirmed to be authentic by Thailand's Minister of Health, but was dismissed as solely the opinion of one individual.